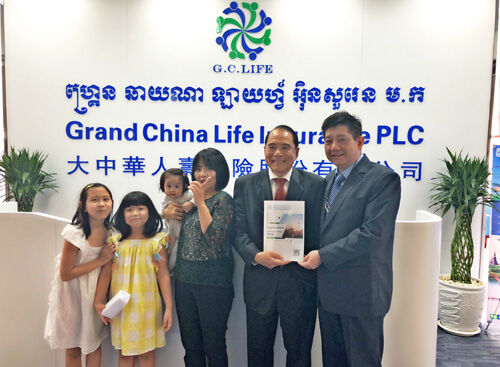 First Insurance Policy
The coverage of Grand China Life Product No. 3 focuses mainly on children's education annuity benefit and critical illness insurance, meanwhile giving consideration to the waiver of premium coverage of the applicant. The payment period of the product is three years, and the education benefit for the child is fully guaranteed until the child is 22 years old, so the child will have a worry-free education funding. At the same time, after the expiration of the payment period, the policy also provides the insured with 25 types of critical illness coverage with sum insured of $7,000 per policy.
After preliminary preparation, the first group of Grand China Life approved products have been available in the market. The products have been highly welcomed by everyone as soon as they were launched. On April 6th, 2018, the first issued policy after the Company's grand opening was our Product No. 3 – Offspring Prosperity Insurance which was part of the first batch of approved products. His Excellency LY Thuch, Senior Minister of the Royal Government of Cambodia who was the applicant of this policy, went to our Company with his family to apply for the policy for his daughter who is 1 years old. He said the coverage of this product is wide, and the premium is moderate which is very suitable for Cambodian families to apply for their children who are under the age of 15.